Can I grow Sweet Peas in pots?
The short answer is yes, but of course, there's a longer answer too...
If you have space and a suitable spot, you'll probably find it easier and get better results to grow plants in the ground rather than in containers. The main reasons for this are that there are likely to be variable levels of moisture available to the plants and in a pot there is the risk of the roots heating up. Both these factors can cause erratic growth, a reduction in the number of blooms, cause stems to be short and for the plants to be susceptibility to disease.
The good news is that if you follow these tips, you can get good results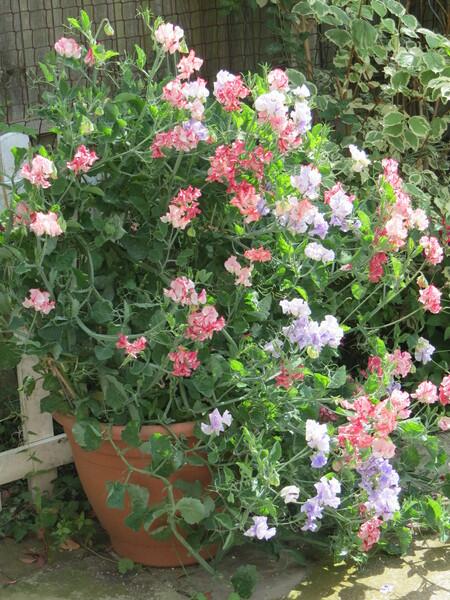 The first thing is to choose some sweet pea varieties that are less vigorous in their growth. Old-fashioned varieties, such as our Heritage Mixture collection and dwarf and intermediate height varieties, such as the Solway series, are the easiest to grow in containers.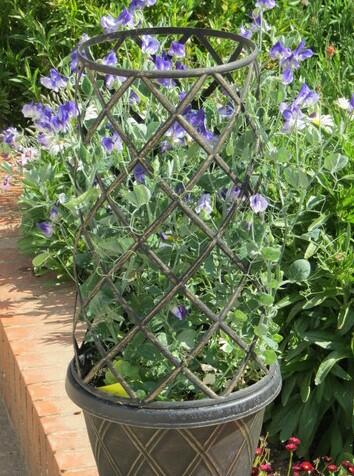 Next - pick a large container - as big as is practical and no less than 45cm in diameter and 60cm deep.
Then - use a good peat-free multi-purpose compost to which some loam-based John Innes compost could be added to help with moisture retention and give it some "body."
Make sure you - Water regularly.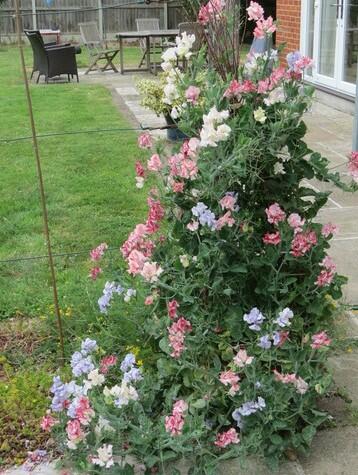 Finally - Apply a balanced fertilizer weekly according to the packet instructions, and remember that tomato fertilizer is good for flowers and fruit but contains little nitrogen for growth.
Enjoy - your flowering creation by regularly picking the flowers. This encourages more flowers to form.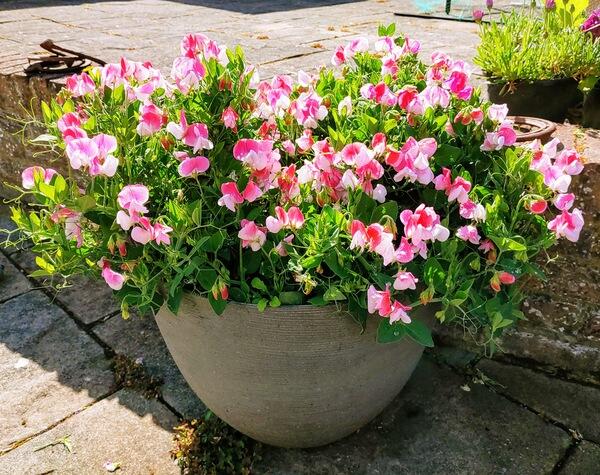 BUT NEVER allow the compost to dry out - it is difficult to encourage the plants to start growing again after a setback.
Obelisks, teepees, etc., make good supports for pot-grown plants, and a wide range is available.
At the moment, we only have a few of the shorter sweet peas listed on the website from our UK productions and are working on increasing the range. If you've read this article and are keen to try something that's not listed on the website, send us an email because we may have a few seeds of just what you're looking for, squirreled away in our seed bank.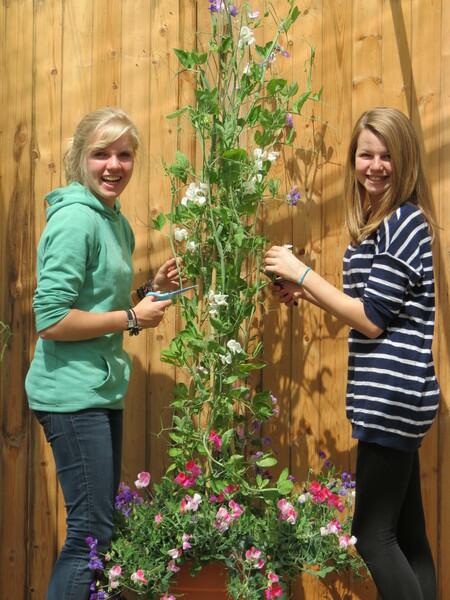 This picture was taken a few years ago now - we called the it "Snow White and the Seven Dwarfs" as it features the tall-standing white Sweet Pea Dorothy Eckford with Erewhon as her handsome prince, surrounded by seven colours of dwarf Cupid type sweet peas. The idea grew from a slight mistake when some tall types were accidentally mixed in with a bag of cupids!! If you love the the idea of a tall and dwarf combination, let us know, and we'll see if it should become a new collection.
The lovely young ladies showcasing the sweet peas are Steph and Chez, who have grown and blossomed into wonderful and accomplished young women.